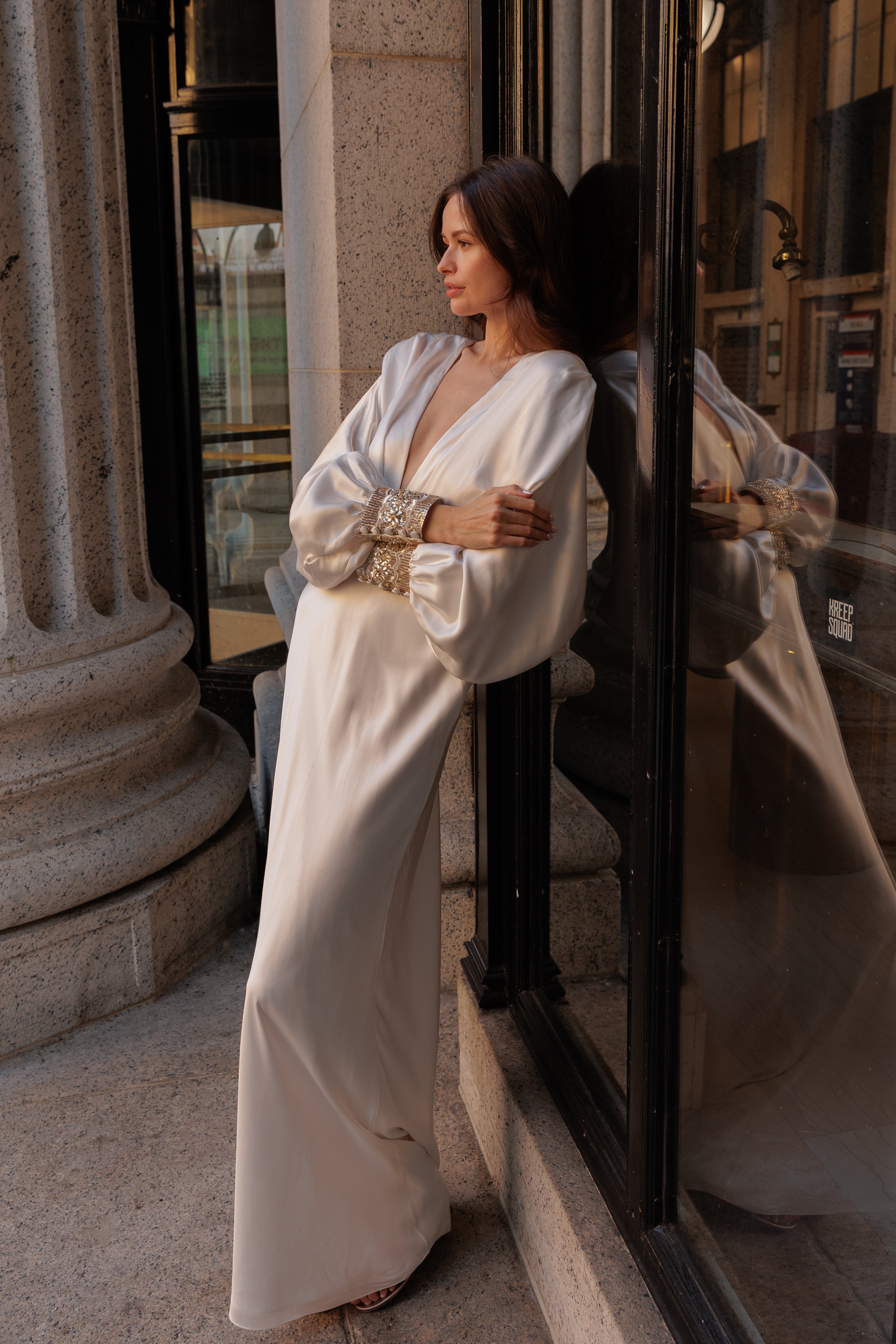 Bo & Luca goes beyond mere material, it translates art and beauty into the tangible medium of fabric, using artisan skills and ancient craftsmanship steeped in the world of bridal couture. Influenced by the romance of bohemia, our signature slow luxury aesthetic is grounded in traditional artisan techniques, uncomplicated styling and easy elegance.
---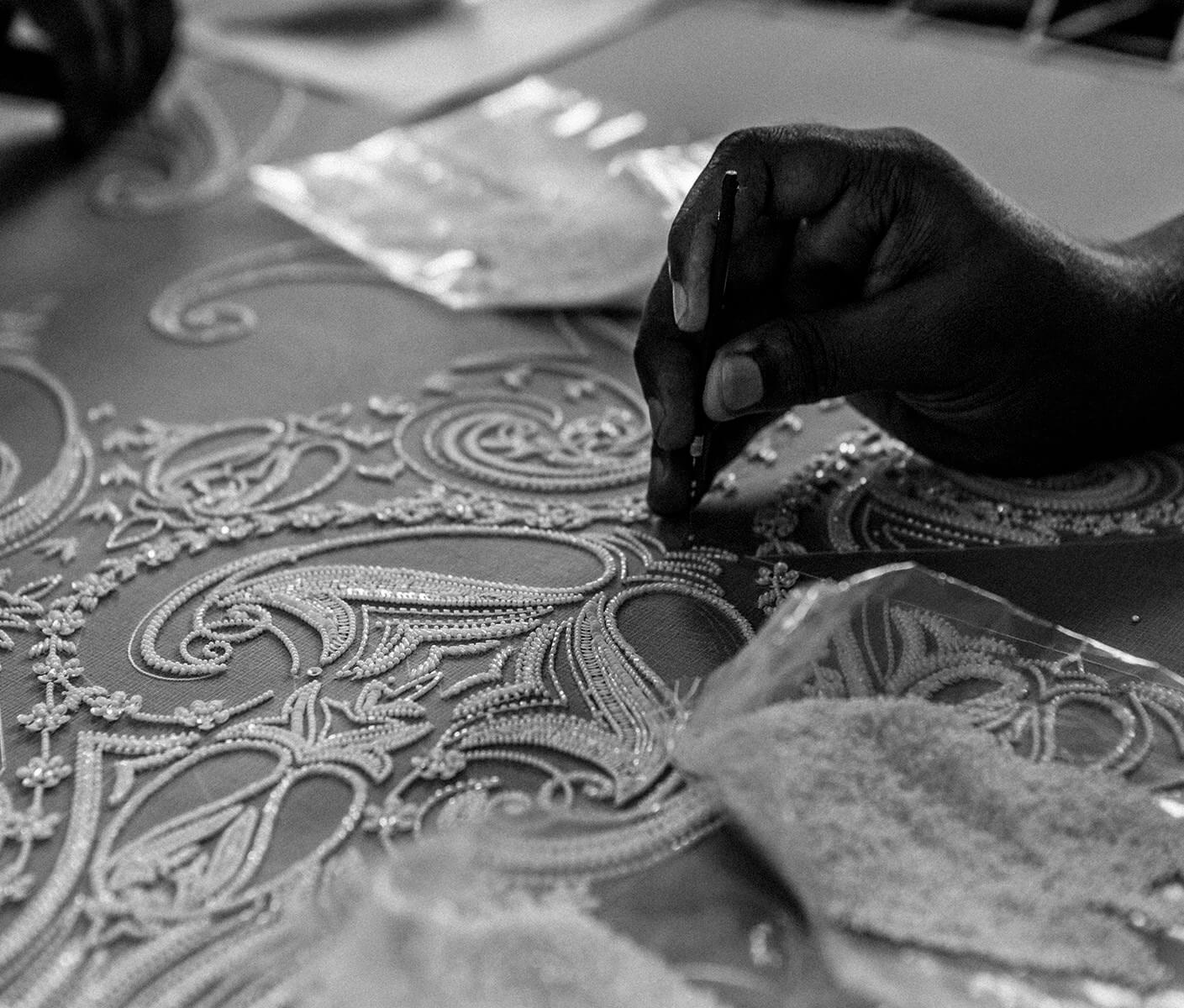 Our couture gowns are made, hand-beaded and hand-dyed in our quiet Atelier in India. Using an ancient Indian technique known as Tambour, each bead is carefully hand-sewn onto the finest silk by local master craftsmen and women over a three to six-month process. The entire process celebrates the feminine and carefree romanticism which only delicate hand-beading, embroidery, and hand-dyeing can emulate. Incorporating this age-old technique into each design produces a finer, more intricate, and higher quality result than machine beading, which is a more favored method in modern garment manufacturing..
Bo & Luca encourages handmade creations and intertwines this value into each gown created under our diffusion brand, Temple. Whilst many Temple Gowns are created in our Indian ateliers, the recent partnership with our European atelier has allowed us to diversify our offering into commercially viable gowns which appeal to our valued boheme bride with a reduced budget. Temple allows inclusivity and ensures that more brides can make the dream of being a Bo & Luca bride a reality.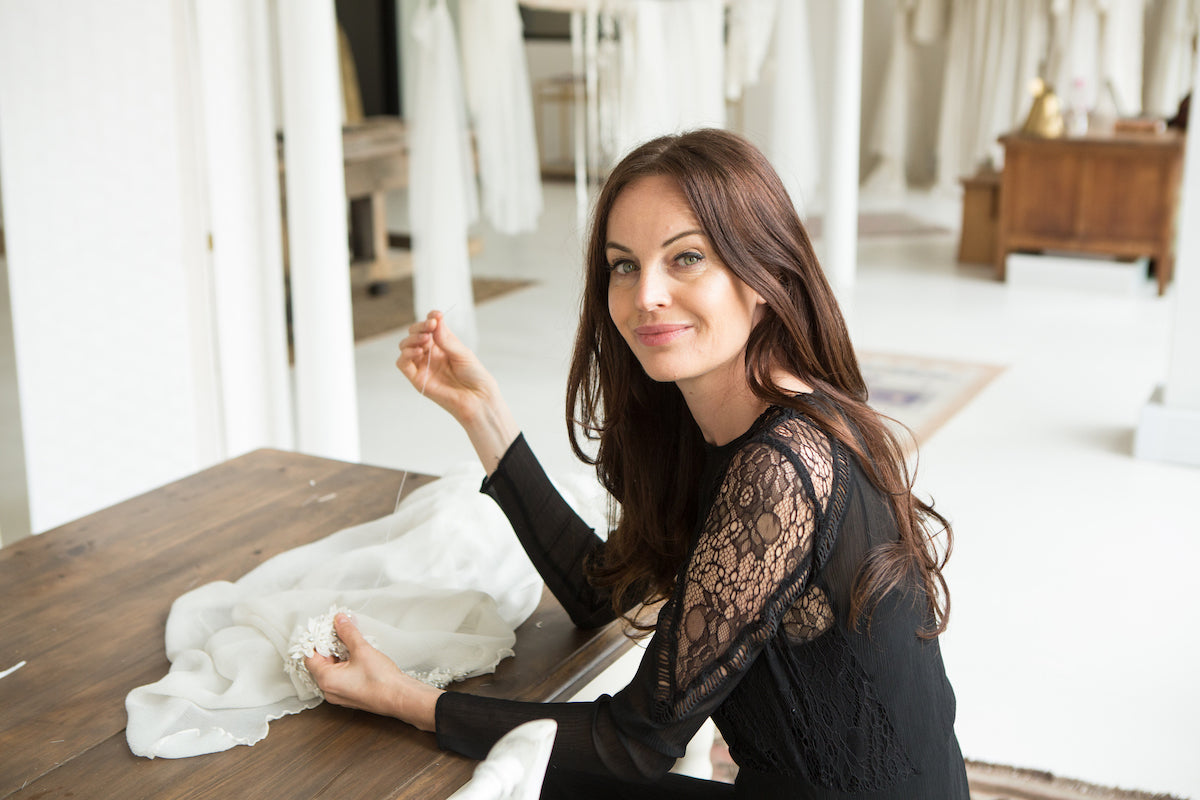 MEET THE CREATIVE DIRECTOR
Founder, Shannon, was living in the Middle East where she was exposed to a diverse variety of styles, designs and people which fed her creative energy and ultimately planted the seeds for the company. "The Middle East was a huge eye-opener for me with its narrow streets and lanes lined with small tailor shops that create the most beautiful hand-beaded saris and bespoke women's garments for wearing under their abayas. The culture and the intricately decorated buildings inspired me to create something that would speak to me and women like me who enjoy their freedom and live out their wanderlust."
When Shannon began to help her friends in Dubai search for their dream wedding dresses, she soon realised that there was very little available for women who are free spirited and non-conforming to the traditional bridal designs that flood the market. It was Shannon's ambition to make gowns that reflect the modern woman, her individual personality and to celebrate the innate femininity. Bo & Luca's gowns are characterised by the way they are draped to flatter the body, something Shannon learnt from an Indian tailor who taught her the art of free draping, and how to create a garment by fitting it to a woman's body instead of following a pattern.
After 2 years of research and experimentation with fabrics and designs, Bo & Luca was born. The brand quickly took off, having opened their first studio in Australia whilst working closely with a small atelier in India who also worked for esteemed fashion houses such as Elie Saab, Balmain, and Dolce & Gabbana to name a few. Shannon believed that she could grow the brand and offer everyday women the chance to wear a hand crafted, hand beaded heirloom piece. Bo & Luca invites you to explore our world and looks forward to being on the bridal journey with you.